THE ROASTERY is a new concept in specialty coffee
designed to surprise you, and all the coffee lovers that arrive at your business.
Experience the great feeling of having a SPECIALTY PARTNER by your side.
With the guarantee and experience of Cafès Novell.
WHAT IS
SPECIALTY COFFEE?
OVER 80 POINTS
Coffee with a score higher than 80 points, according to an International System of quality assessment by the SCA (Specialty Coffee Association).
RATED BY A Q-GRADER
The grading responds to a physical (absence of defects) and a sensory evaluation of the descriptors of the sample made by certified appraisers.
LINKED TO A TERRITORY AND HARVEST
It grows in privileged areas for its climate and location, applying the best practices in processing and storage.
At THE ROASTERY we understand that specialty coffee goes beyond its score. It involves a high degree of knowledge and care of the entire value chain, from the farmer to the barista.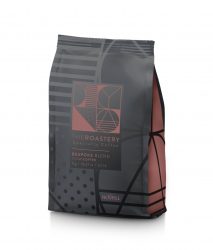 BESPOKE BLEND
BLEND OF 3 SPECIALTY COFFEES
Balanced and fine cup. A touch of acidity highlights the lightness of the arabica coffees. Its
unique roasting curve gives the blend the special softness, body, acidity and sweetness that
define THE ROASTERY's cup.
SINGLE ORIGIN
COFFEES FROM SPECIAL REGIONS
THE ROASTERY's Single Origin is a rotating selection specially designed for coffee lovers who
enjoy deciphering the nuances of each origin with exclusive micro-batches of extraordinary score. Upcoming origins: Finca Magnolia (Guatemala), Finca Itumpi Amco (Tanzania) and Finca Sito Boa Esperanza (Brazil).