HERBAL & ORGANIC TEAS
CHAMOMILE
Originating from Egypt and Turkey where these daisy-like flowers can be found growing. They are hand-picked whole, from the start of spring until the first month of summer. It is smooth, digestive, rich in vitamin C and is known for its calming effect.
One can imagine Cleopatra herself closing her eyes as she sipped a chamomile infusion, or in a more recent past, Mustafa Kemal Atatürk, the 'father of the Turks', drowning his sorrows at the defeat of the Ottoman Empire in a good cup of chamomile (which would remind him once again of the simpler pleasures in life).
Ingredients: Chamomile flowers.

HERBAL & ORGANIC TEAS
PENNYROYAL MINT
What a pleasure to stroll through a forest on a summer evening, once the sun has finished tanning our skin! Then the herbs growing along the borders of our path, such as mint, with their pretty leaves, brush our lips with the itching thirst and devotion.
The infusion of their leaves suggests freshness and cleansing, leaving a lasting impression of wild herbs in our subconscious. Mint is synonymous with freedom; like that of a child enjoying the last days of summer. Very aromatic, invigorating, rich in vitamin B and minerals.
Ingredients: Mint, pennyroyal mint.

HERBAL & ORGANIC TEAS
KUKICHA GREEN TEA
This tea has a lovely history behind it. It originates from the tea gardens of Uji, south of Kyoto. The substance of the infusion consists of the shoots, stalk cuttings and twigs from the plants, which were drunk by the humble tea farmers after selling the more valuable leaves and buds. This was their drink.
Nowadays it is considered a green tea for connoisseurs. It has a light flavour and is very low in theine. The health benefits are numerous: rich in minerals, magnesium and calcium. In the West, it is one of the most appreciated teas for its mineralising and alkalizing power.
Ingredients: Kukicha green tea.

HERBAL & ORGANIC TEAS
PAI MU TAN WHITE TEA
The plant grows in the mountains of Fejian, at an altitude of 6,000 metres. It is made from the first, and most tender buds, which are carefully picked in spring by hand, one by one, before they open.
Tea with a floral aroma, it should be prepared at a low temperature (70º) and infused for no longer than two minutes. This tea has the lowest level of theine. The buds are covered in a white cloth, almost like a subtle skin of snow, from where it gets its name. For centuries it was reserved exclusively for the emperor and his close relatives. It was believed that it contained the secret to eternal youth.
Ingredients: Pai mu tan white tea

HERBAL & ORGANIC TEAS
DIGESTIVE INFUSION
Undoubtedly the best solution for uncomfortable digestion problems, which occur from time to time. The resulting combination is perfect thanks to its powerful digestive effect. At least as ideal, and harmonious as a hypothetic flag formed of the colours of its three elements: the yellow of chamomile, the green of mint and the white of anise.
Rich in vitamin C, this infusion also has anti-inflammatory effects, as well as being a natural isotonic.
Ingredients: Anise, chamomile and mint.

HERBAL & ORGANIC TEAS
FRUITS OF THE FOREST
It is well known that red is the colour of passion. Therefore, very few infusions that could display such a showing of unfailing love as this one, which thanks to its colour, resembles the scarlet red of a sunset.
Very aromatic, rich in minerals and trace elements, it is also a natural antioxidant. If you are in love and now how to choose a good wine for dinner, don't miss the chance to offer you dinner date this tea before… (and here you can add whatever suits the occasion best!).
Ingredients: Strawberries, hibiscus and rose petals.

HERBAL & ORGANIC TEAS
DARJEELING BLACK TEA
This is a typical Indian tea grown in West Bengal. For many connoisseurs it is the jewel in the crown. Technically it is a GFOP1, a Golden Flowery Orange Pekoe First Grade.
An exquisite tea with body and a very pleasant flavour.
Ingredients: Black Darjeeling tea.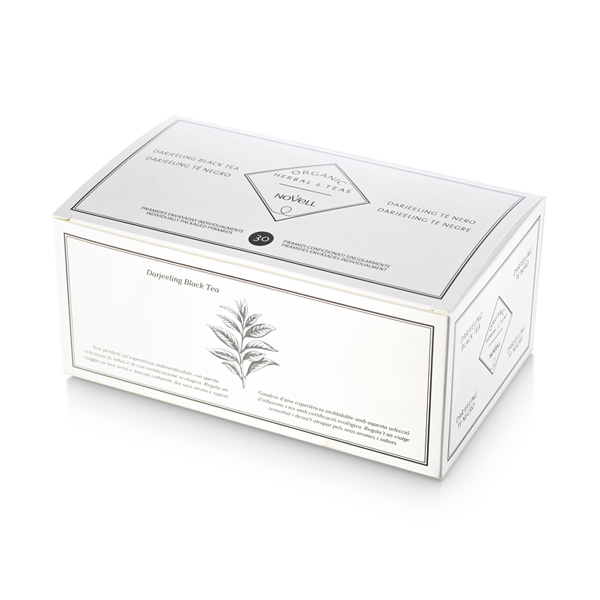 HERBAL & ORGANIC TEAS
ROOIBOS, CHOCOLATE AND MINT
This infusion is an extraordinary encounter of very diverse, but perfectly compatible cultures and traditions: African rooibos, Iberian mint and Aztec cocoa.
Close your eyes and image you have just put a mint flavoured chocolate into your mouth… in the form of an infusion. Can you imagine any greater pleasure? It is sweet, with no caffeine, relaxing, and with an incomparable freshness. It is an ideal beverage for children and pregnant women.
Ingredients: Rooibos, chocolate, mint and cinnamon.

HERBAL & ORGANIC TEAS WHITE TEA, STRAWBERRY AND ORANGE
If this infusion was a poet, he or she would have a curious blend: the soul of one of the great poets of the Tang Dynasty (white tea) entwined with that of a poet from medieval Spain, from the era of Al Andalus (orange and strawberry).
The origin of this infusion is none other than Chinese pai mu tan, a reputable white tea. The exquisiteness of the Chinese tea ritual culture is closely aligned with the delicious flavours and aromas of our Mediterranean fruits. An ochre-coloured infusion with a fresh aroma and velvety flavour.
Ingredients: White tea, strawberry and orange.

HERBAL & ORGANIC TEAS
GREEN TEA, GINGER AND ORANGE
Tea usually has a lovely legend attached to it. The story goes that some leaves from a tea tree fell into the drink of a Chinese emperor and gave it a new flavour, which greatly pleased the country's ruler. Thus, the new, age-old beverage was born.
The health benefits of this tea are numerous: it is good for circulation, reduces stress and is one of the best antioxidants known. Its flavour is sightly spicy with the predominant freshness of the citrus and ginger. Mild aroma.
Ingredients: Green tea, ginger and lemon.

HERBAL & ORGANIC TEAS PU-ERH CHAI TEA
For this infusion, we are going on a journey by barge down a river in the Chinese province of Yunnan. The vessel is named after the Chinese tea: pu-erh. Let's imagine that the water from this river linked this ancient country to another, equally ancient country, India. The boat itself would be steeped in tea.
Intense aroma and spicy flavour, with a touch of ginger. It is said to be a regulator of intestinal inflammation, helps to reduce cholesterol and triglycerides and has slimming properties… and the list goes on!
Ingredients: Pu erh, cinnamon, liquorice and ginger.

HERBAL & ORGANIC TEAS ROOIBOS ORANGE CREAM
This tea originates from South Africa and has a sweet, smooth flavour, with some hints of citrus. It is perfect for drinking in the evening, after we have put all our concerns to one side and the stars are twinkling in the night sky. It s rich in polyphenols, caffeine free and has relaxing properties..
Ingredients: Rooibos, orange and lemongrass.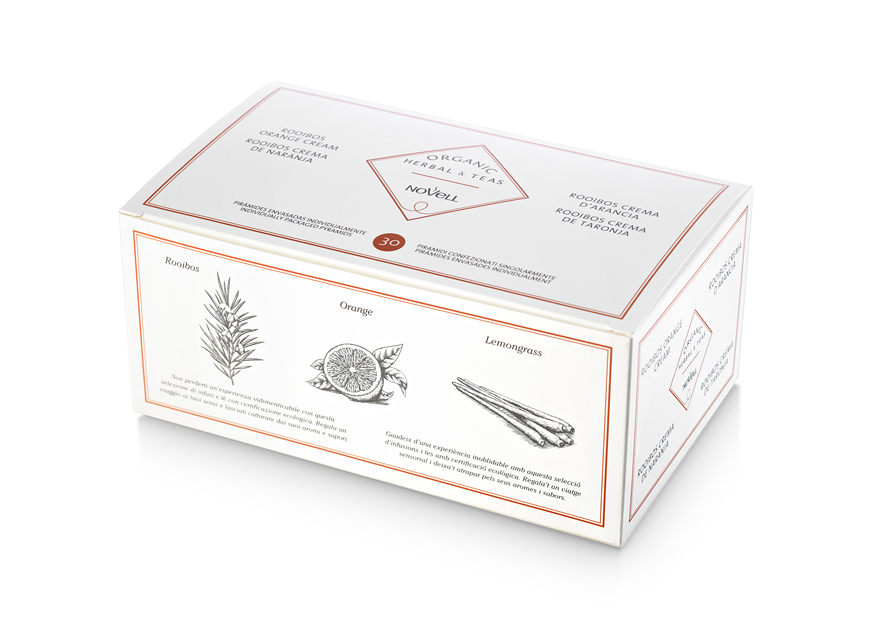 HERBAL & ORGANIC TEAS
SPICY BLACK TEA
Perhaps the best way to describe this tea would be to say it was like having a sip of Bombay's spices. Enjoying a cup of this tea is almost like embarking on a journey. It is an Indian Flowery Orange Pekoe (FOP) grade tea with excellently blended flavours and aromas. If if you have never been to India, you will taste its essence in this tea. Stimulating, digestive and cardioprotective effects.
Ingredients: Black tea, cinnamon and ginger.

HERBAL & ORGANIC TEAS
RELAXING INFUSION
This infusion is almost an alchemical blend of the ingredients, resulting in an intoxicatingly aromatic, caffeine free infusion.
A genuine melting pot of cultures, above all, ones with Mediterranean roots. An exciting mix of rooibos from South Africa, with our common linden, along with lemon and lemon balm. It induces sleep, is a muscle relaxant, with anti-stress, anti-fatigue properties. If dreams could have a flavour, it would be this one.
Ingredients: Rooibos, lemon verbena, lemon leaves and peel.

HERBAL & TEAS ORGANIC PU ERH CINNAMON AND VANILLA
This Chinese tea, like many others, originates from the Chinese province of Yunnan. Its uniqueness stems from the fact that its has undergone double fermentation, which accentuates its properties and makes it rich in theanine. Its two aromas give it a very individual personality. It has diuretic and digestive properties and is good for dieting. Proof that life's little pleasures can also be good for us!
Ingredients: Pu erh, cinnamon, liquorice and vanilla flower.